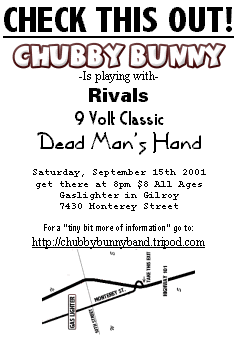 Location: Gaslighter in Gilroy
Date: Saturday, September 15, 2001, 8:00pm
Show Type: Band Show, $8
Co-performers: Dead Man's Hand, 9 Volt Classic, Rivals
Songs Played: Bunch of em
Summary: The Hand was cool, the battery played an electrifying show, Rivals brought down the house, 1st show with Rival's Hand. Todd felt sick, Thanks to Jen for producing some nice T-shirts. Thanks to all that showed up! Where is the mic cable bag?