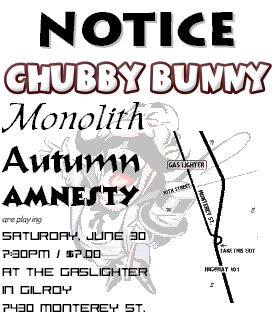 Location: Gasligher in Gilroy
Date: June 30, 2001
Show Type: Show
Co-performers: Amnesty, Monolith, Autumn
Songs Played: P.S., Behold, Marsh, RBF, Snotty, D&D, the Bells, Sweet Dreams
Summary: First show with Karl, our new drummer. Better crowd response than last time. Thanks to Jerry from Local ODdity for running PA.